Neuer out, Sane in: The new Germany after WC disaster
World Cup Neuer & Boateng out, Sane in: How Germany must rebuild after World Cup disaster Ronan Murphy Last updated 1 year ago 19:00 6/28/18 FacebookTwitterRedditcopy Comments(7)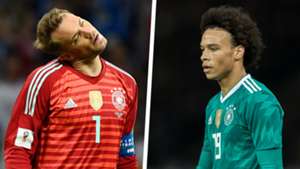 Getty/Goal World Cup Germany South Korea v Germany South Korea Leroy Sané Opinion Die Mannschaft suffered a shock exit after winning just one of their group games and now face a huge rebuild ahead of Euro 2020 There is a little crest above the player number on the front of Germany's World Cup jerseys. It denotes the current World Cup champions and is a special badge worn only by the holders.But until a new champion is crowned on July 15, this special crest will be nowhere to be seen in Russia. Germany's humiliating exit from the tournament ensures a new team will earn the right to wear it on their chest, while Die Mannschaft must adjust to life with a new-look jersey.The nature of their elimination also means there will be plenty more adjustments for Germany in the next four years as they look firstly at Euro 2020 and then to the 2022 World Cup in Qatar, trying to rebuild from the ruins of their worst World Cup in 80 years. Article continues below Editors' Picks Perfection from Pulisic: Chelsea's Captain America has arrived in the Premier League Why always Raheem? 'Unplayable' Sterling setting a standard Man City's other stars need to match 'There is no creativity' – Can Solskjaer get Man Utd scoring freely again? 'Everyone legged it on to the pitch!' – How Foden went from Man City superfan to future superstar But where exactly do they go from here? What needs to be changed once they recover from the shock?Germany players who should be droppedDespite the 2018 squad retaining some of the players who lifted the World Cup four years earlier, the 23-man panel Joachim Low brought to this summer's tournament is not actually heavily-skewed towards players in their 30s. Manuel Neuer (32), Mario Gomez (32) and Sami Khedira (31) are the three oldest squad members, with the latter two unlikely to be around for the next World Cup.Neuer admitted in the mixed zone after the 2-0 defeat to South Korea that he had no plans to retire from international football and is likely to continue to play for many more years. He remains one of the best goalkeepers in the world, but with Die Mannschaft now needing to look to their medium and long-term future, should be no longer considered the guaranteed starter for his country.Barcelona's Marc-Andre ter Stegen has proved his abilities at club level and just turned 26 in April, making him a relatively young shot stopper with the potential to get even better in the next few years. Low selected Kevin Trapp as third-choice goalkeeper, but he is a substitute at PSG and could well be overtaken in the pecking order if Bernd Leno can get off to a good start at Arsenal.Jerome Boateng's World Cup ended in disgrace as he was sent off against Sweden, forcing Low to play three different centre-back partnerships across the three group games. He is not the player he once was, with Bayern Munich ready to let him leave the club due to the fact they see 22-year-old Niklas Sule as a better option for the future. Germany should also jettison the 29-year-old, who has lost some of his pace and was left exposed to counter-attacking opponents in Russia.Mats Hummels is just a few months younger and could be reaching the end of his international career, while Mesut Ozil is another player due to turn 30 in 2018. The Arsenal midfielder was the centre of controversy before the tournament and did little on the pitch to distract from this, being heavily criticised by German media. He is becoming a luxury player that cannot be accommodated in the Germany XI if they want to build a new, cohesive side.With 31 goals in 78 games for his country, Gomez has been a great servant for Germany, but should not have gone to the World Cup ahead of younger, more in-form strikers despite his dressing room influence. He will likely retire from international football, allowing younger forwards to take his place.Germany players who should be called upLow only brought two proper strikers to the World Cup – 32-year-old Gomez and 22-year-old Werner. The latter's pace was wasted as he was forced out wide by deep defending opponents, with his 31 first-half touches against South Korea all coming on the flanks. Neither striker scored in Russia, which should not be surprising considering they only had 22 goals between them in the entire 2017-18 Bundesliga season.The league's runner-up in the top scorer race behind Poland striker Robert Lewandowski was Nils Petersen. He was handed his international debut in the pre-tournament friendly against Brazil before being cut from the final squad. However, he also turns 30 this year, so is not a long-term option.Instead, Germany could look to the three players who finished just a goal behind him in the Bundesliga, with 14 goals apiece. All of Niklas Fullkrug, Mark Uth and Kevin Volland are in their mid 20s, coming off their most productive seasons ever and can provide different options in attack to either replace or partner Werner.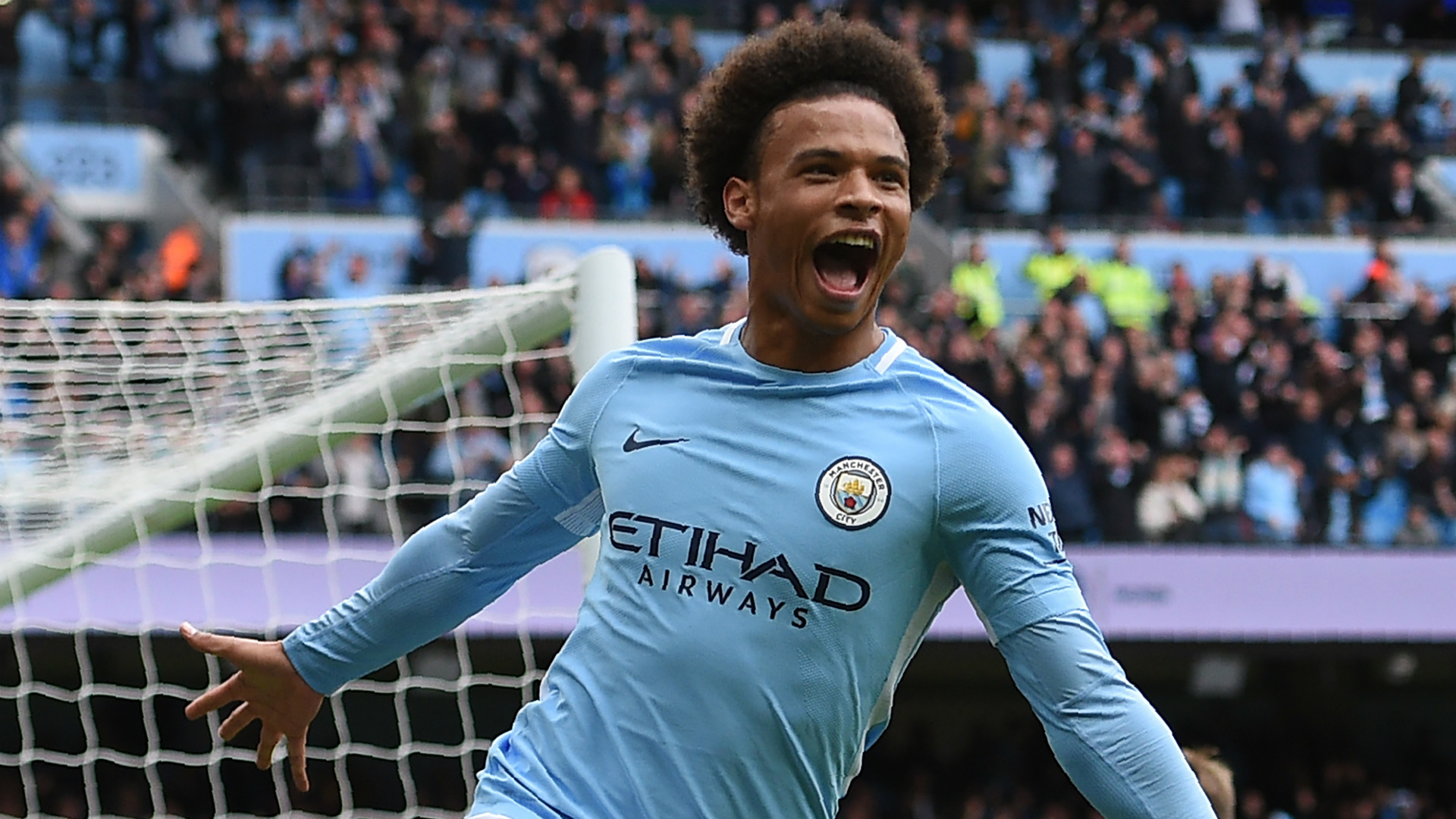 The biggest omission from Germany's final 23-man squad was Manchester City winger Leroy Sane. With Germany needing width in the third game, Low decided to start central midfielder Leon Goretzka out wide. This failed spectacularly as the new Bayern Munich signing is not a natural fit for the position, whereas Sane scored 10 times and assisted 15 more to help Pep Guardiola's side win the Premier League.Julian Brandt was taken to Russia in his place, showing glimpses of talent in brief cameos from the bench, but was ultimately wasted by Low. Sane would not have solved all of Germany's problems at the World Cup but surely would have brought something different to a lacklustre attack.In 2017, Germany lifted both the Confederations Cup and the Under-21 European Championships with young, energetic sides. Many of these players should be under consideration for the senior squad. Emre Can, Kerem Demirbay and Max Meyer should be considered for inclusion in midfield, Jonathan Tah, Thilo Kehrer and Mitchell Weiser in defence and Serge Gnabry, Davie Selke and Max Philipp in attack.There were many calls for Philipp Max's inclusion before the tournament, following an excellent season at left-back for Augsburg, but he has yet to make his international debut. Germany have plenty of young players coming through, but they need to be given time to adapt to international football – the Nations League kicks off in September and is the perfect time to bring through a new generation of players.Should Low stay as Germany manager?Before Germany's final group game, DFB President Reinhard Grindel insisted that no matter what happened, the German football federation would honour its new deal with Low. "We decided before the World Cup for the contract extension, because we believe that the change that will take place after the World Cup, regardless of the outcome of the tournament, cannot be done better by anyone other than Jogi Low," he told WAZ.However, when he said that, he was probably not expecting elimination before the knockout stage. His stance has eased somewhat, claiming that the DFB will hold discussions with the head coach in the next few days to decide what to do next.Low has not become a terrible manager overnight. He had reached at least the semi-finals of every previous tournament he had guided Germany to, but perhaps had gotten too comfortable in the role by the time the 2018 World Cup came around. The 58-year-old has the ability to get Germany back to its best, but may not be allowed continue after the embarrassing nature of their exit.The big problem for Germany is who would replace Low if they do get rid of him. They are unlikely to hire a non-German to be their next manager and all the best German coaches are under contract and unlikely to leave their clubs.Jurgen Klopp is the best choice for the job, but will definitely not quit Liverpool when he is trying to build a legacy there. Julian Nagelsmann has already agreed to join RB Leipzig in 2018-19 and is too young, which is probably also the case for Schalke's Domenico Tedesco. Ex-players do not have enough experience, while Low's coaching staff are not big enough names to earn a promotion. The 2014-winning assistant Hansi Flick was a methodical mind whose absence was obvious this summer, but has moved into a backroom job with the DFB and has not held a management job in over a decade.The time is right for Low to go, but there is probably nobody suitable or available to take over.How Germany should look at Euro 2020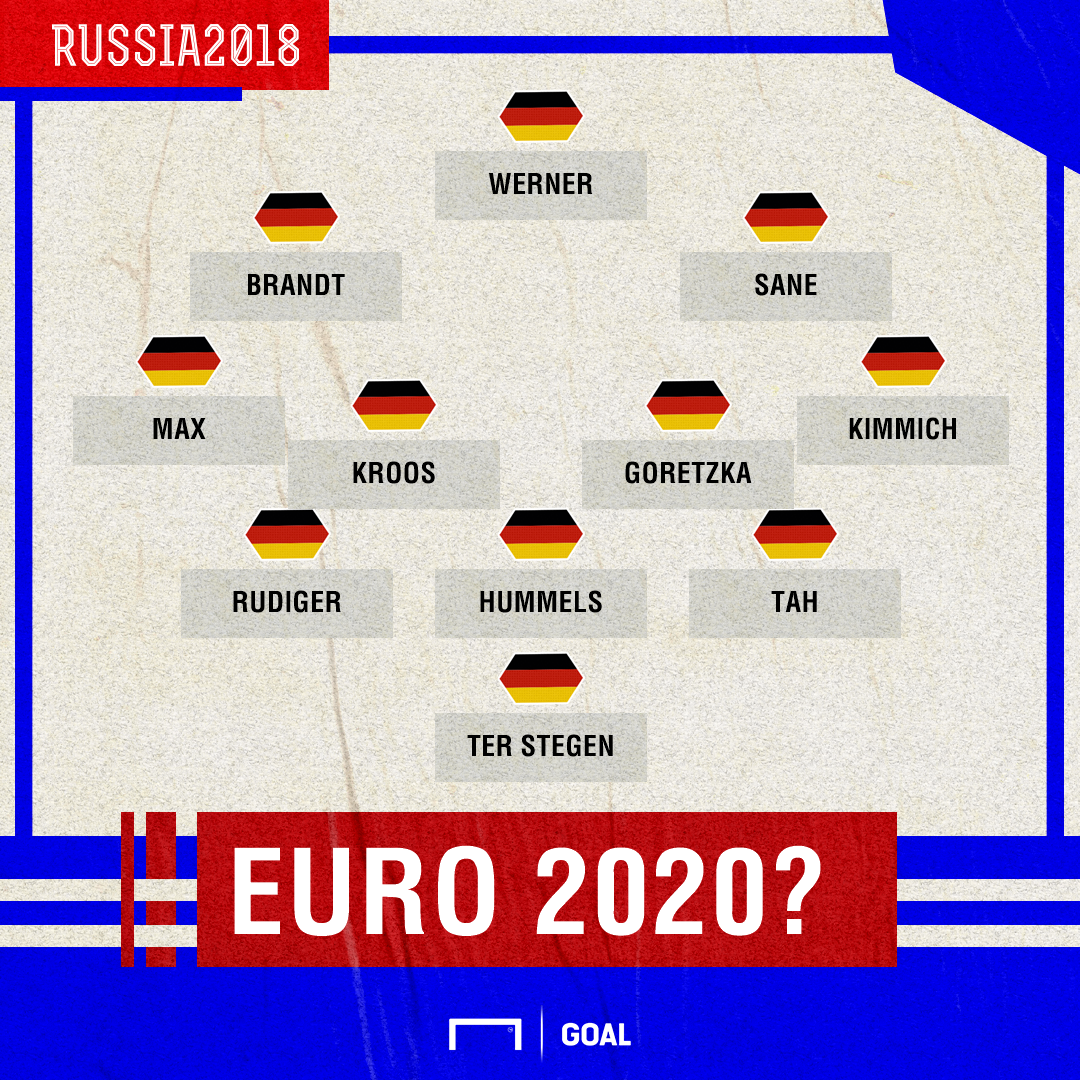 The problem in two years' time could once again be an abundance of attacking talent but the need to shoe-horn in Werner making things difficult. Will Germany decide to stick with a 4-2-3-1 and a lone frontman? Could they attempt to replicate Leipzig's 4-2-2-2 approach so Werner has a partner? Or will they move away from four-at-the-back like they did in the Confederations Cup?Many of the current crop could be gone by 2020, but Toni Kroos should definitely be retained despite making mistakes in Russia. He scored their fantastic winner against Sweden and kept things ticking over in midfield while his team-mates stuttered.Brandt needs more time than just substitute roles, while Goretzka will battle for a midfield spot against the likes of Gundogan, Can and Sebastian Rudy. Sane is a definite starter if he continues his club form, with Gnabry a brilliant option from the benchA 3-4-2-1 would also provide more defensive cover, meaning Joshua Kimmich could rove further forward and not have to track back as often, while questions over Max's defensive failings would not be as big of an issue with him providing crosses and set-piece deliveries to create goals.